Houston is a very diverse city in America. This means you can find lots of different kinds of food here from all over the world. You can eat at small food trucks or really fancy restaurants. Houston has it all when it comes to food.
In 1930, people in Houston started loving delicious French pastries and crispy bread. This happened when Moeller's Bakery opened as the first bakery in the city to sell French food. Now, there are many French bakeries in Houston. You can see them all over the place, and people really like to eat there for breakfast, lunch, and dinner.
Fantastic French Bakeries in Houston
I want to share my favorite French bakeries in Houston with you. This way, you can plan your next trip to get fresh baked goods.
I'll tell you what makes these places great and what special treats they offer that are really delicious! I'll also suggest nearby places where you can find other ingredients, like farmers' markets or nice spots to enjoy your French snack.
And about the prices: I'll mention how much a few simple items cost at each bakery, like a butter croissant, a latte, or a regular éclair. These are things you can usually find at most French bakeries.
Now, let's explore the best spots in Houston for delicious baked treats!
1. Moeller's Bakery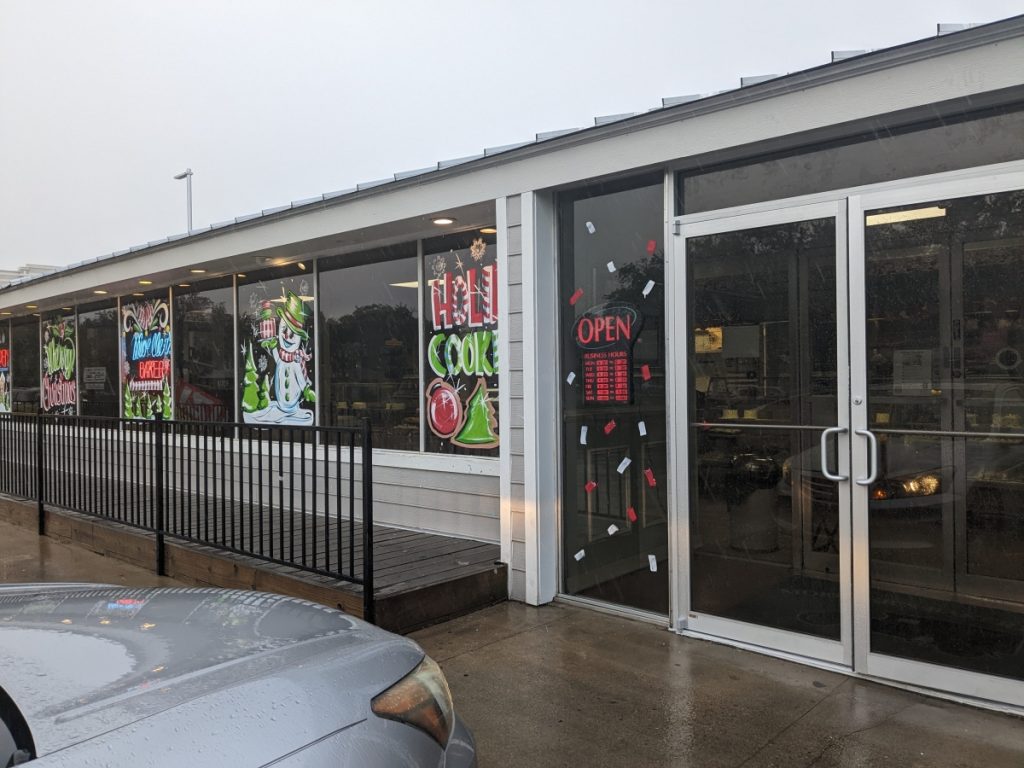 Address: 4201 Bellaire Blvd, Houston, TX 77025
Website: https://moellersbakery.com
Opening Times: Monday – Friday 6.30 am – 6.30 pm, Saturday 7 am – 5 pm, Sunday closed
Price: Example White bread loaf $1.38, petit Fours $2.40
Exploring Houston's Oldest Bakery – Moeller's
Let's begin with the oldest bakery in Houston. This bakery has been loved by Houstonians for over 90 years, and it's still a top choice today. What's amazing is that they still use the same old oven that's been with their family for generations. This oven gives their fresh bread a special crispy crust.
Even though Moeller's doesn't call itself a French bakery, they do make some French goodies like delicate petit fours and pastries. But that's not all – you can also savor classic American treats at Moeller's, like their unbeatable pecan pie!
Moeller's has a big parking lot in both the front and back of the building. If you're in a hurry, you can order online and pick up your goodies because they don't do deliveries right now.
If you want to enjoy your baked treats outdoors, you can head to Evelyn's Park Conservancy. It's the nearest outdoor space and it's less than a fifteen-minute walk away. Evelyn's Park has nice shady spots for picnics, plus splash pads and fun stuff for kids to play on.
2. Magnol French Baking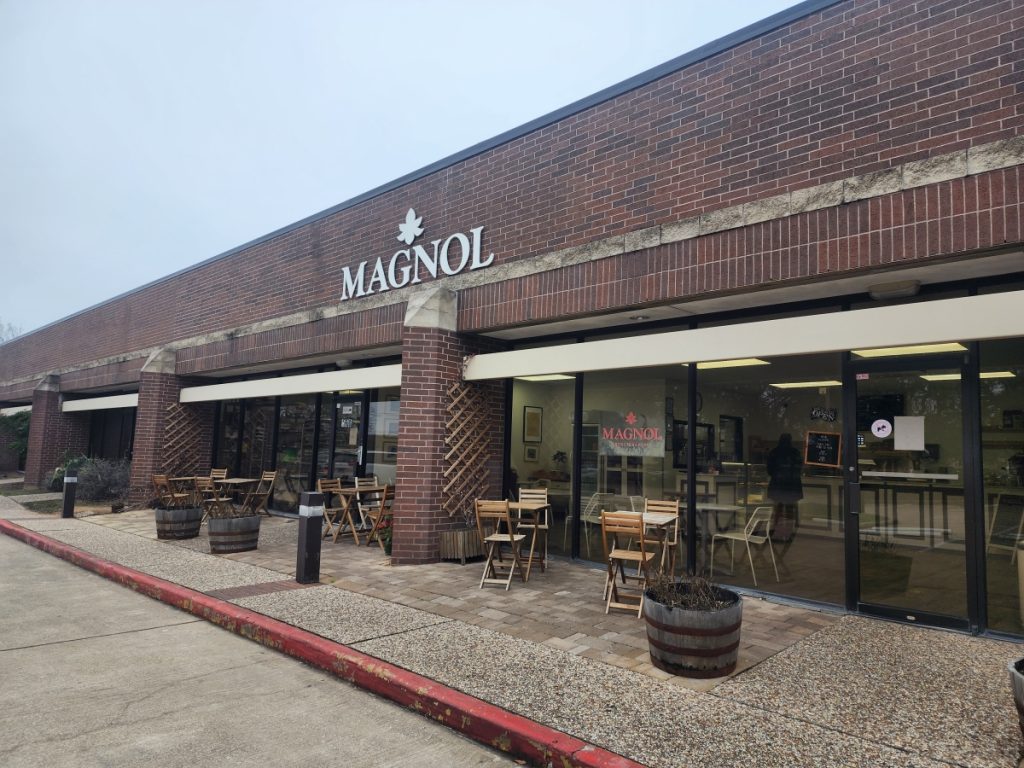 Address: 1500 N Post Oak Rd, Houston, TX 77055
Website: https://www.magnolfrenchbaking.com
Opening Times: Monday closed, Tuesday – Friday 7.30 am – 4.30 pm, Saturday 8 am – 2 pm, Sunday 8 am – 1 pm
Price: Example Butter croissant $3.75, latte $4.00, éclair $6.50
Discovering Magnol French Baking: A Sweet Adventure
When you step into Magnol French Baking, you're in for a treat. It's not just a regular bakery; it's a place where a simple trip for a croissant and coffee becomes a memorable experience.
A French Welcome
As soon as you walk in, you'll be greeted by a vibrant mural showcasing all things French, like the iconic Eiffel Tower and a young boy joyfully carrying baguettes.
Behind the Scenes View
Take a seat at one of their modern white tables, and you can't miss the pastry chefs hard at work behind a huge glass window that separates the dining area from the kitchen. I personally love places where you can peek into the kitchen. It's not only fascinating but also gives you confidence in the cleanliness of the place.
Artisanal and Organic
Magnol is a bakery that's all about organic, artisanal baking, and they've been doing it this way since 2019. They offer a wide variety of bread, from simple seeded baguettes to the delightful cranberry walnut loaf. There's something here for everyone, no matter how adventurous your taste buds are. Keep in mind that a few of their special loaves need to be pre-ordered and can be a bit pricier.
Tea Time Delights
If you're a tea lover, you're in luck. Magnol has an excellent selection of teas to pair with your choice of cake. You can even sweeten your tea with local honey or their homemade syrups.
Convenient Parking
Finding a parking spot won't be a hassle, as there's a spacious parking lot here. And if you're in a hurry, you can place your order online for pickup. Unfortunately, Magnol French Baking doesn't offer delivery service.
Also like this: Exploring Houston's Top 5 Fufu Spots
3. French Gourmet Bakery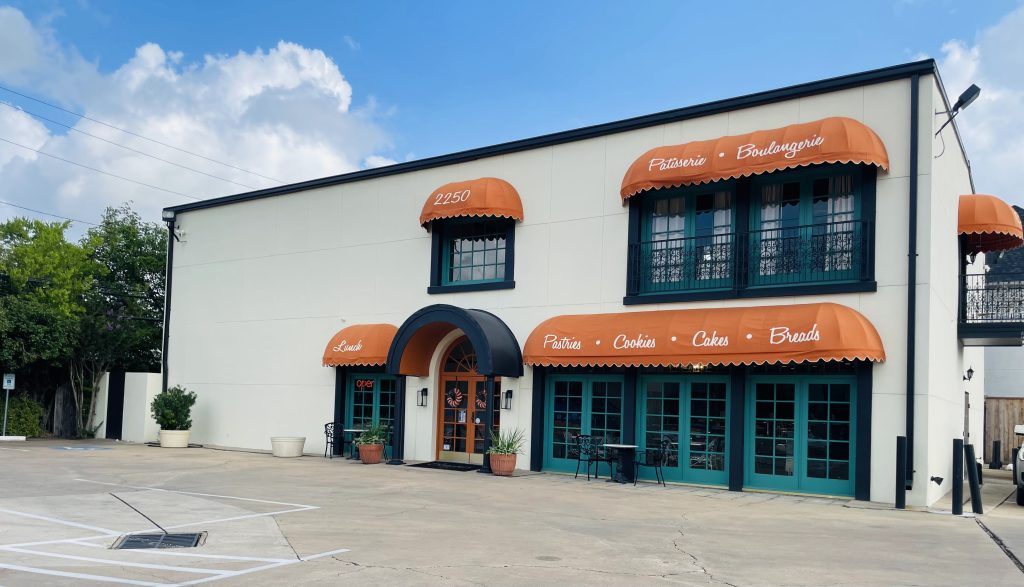 Address: 2250 Westheimer Rd, Houston, TX 77098
Website: https://fgbakery.com
Opening Times: Monday – Friday 7.30 am – 3 pm, Saturday 8 am – 3 pm, Sunday closed
Price: Example Éclair $4.99
French Gourmet Bakery: A Taste of France in Houston
At French Gourmet Bakery, you'll get a delicious blend of French and American baking styles. Let's explore the story behind this bakery.
A Family Tradition
Patrice Ramain, who comes from a family of bakers in France's Loire Valley, moved to Houston and, along with his wife Mary, opened this bakery in 1973. Even though their daughter Lauren now runs the show, Patrice is still very much a part of the bakery.
Simple, Fresh, and Homemade
The menu here might not be huge, but that's because they make everything fresh every day with a small team of bakers. They keep it simple with flavored croissants, pastries, quiches, bread, and a sweet selection that includes cookies, cupcakes, tarts, and petit fours. If you need gluten-free options, you'll find them in the dessert section, but their bread is made with high gluten flour.
Catering Options
French Gourmet Bakery can cater for your events, whether they're corporate gatherings or private parties for breakfast or lunch. Just keep in mind they don't do deliveries, but you can swing by and pick up your order. They also have tables and chairs in their parking area if you'd like to enjoy your food outside.
More Fresh Goodies Nearby
If you want to add more fresh produce to your bakery treats, take a short twenty-minute walk to the Urban Harvest Farmers Market. It's open on Saturdays from 8 am until 12 noon and features over one hundred local sellers. It's a great place to explore alongside your visit to French Gourmet Bakery.
4. Le Macaron French Pastries Vintage Park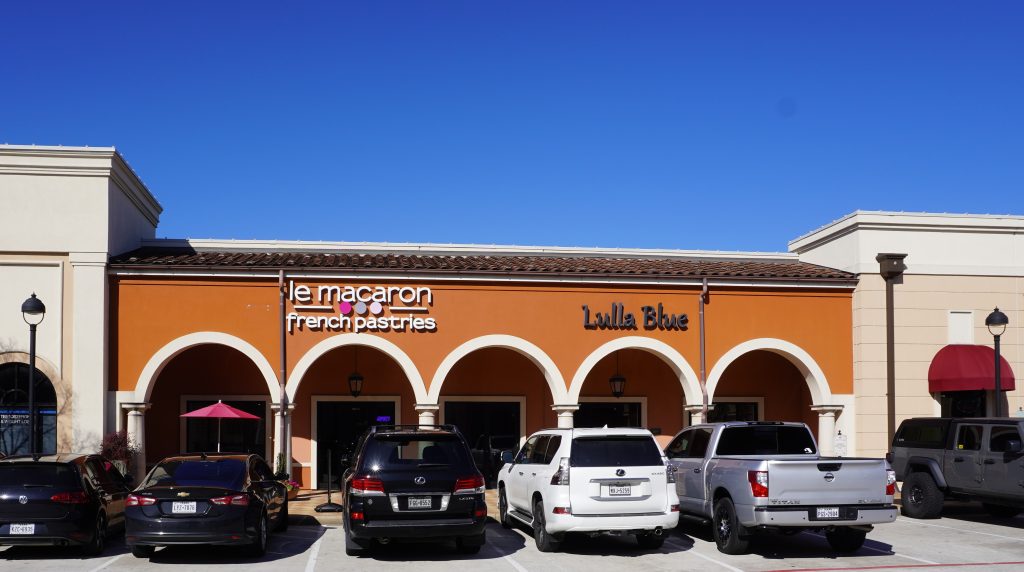 Address: 130 Vintage Park Blvd G, Houston, TX 77070
Website: https://lemacaron-us.com
Opening Times: Sunday – Thursday 11 am – 9 pm, Friday – Saturday 10 am – 10 pm
Price: Example Butter croissant $3.50, éclair $4.14
Exploring Vintage Park: A Sweet Stop at Le Macaron French Pastries
Vintage Park has a lot to offer, with its big shopping area that includes a movie theater, beauty salons, gyms, gift shops, and plenty of places to grab a meal. But if you're looking for a colorful and exciting spot to satisfy your sweet tooth, you've got to check out Le Macaron French Pastries.
Sweet Temptations
What sets Le Macaron apart is not just their amazing desserts but also their late-night hours. They're open longer than most other nearby bakeries, giving you the chance to satisfy your sugar cravings well into the night.
Macarons Galore
Le Macaron specializes in something truly delightful: macarons. These little treats are made with meringue and have just the right amount of chewiness and that delightful melting sensation.
Flavorful Variety
You'll find an array of tempting flavors here, like blackcurrant chocolate, chocolate praline, lavender, white chocolate, passion fruit with dark chocolate, and even strawberry key lime. They also offer macarons with cake flavors, including red velvet and birthday cake.
More Than Macarons
But that's not all – Le Macaron has a lot more to offer. In addition to macarons, you can savor traditional handmade French pastries, cakes, and even French gelato. With so many delicious treats to choose from, it's hard to decide what to try first!
Also like this: 4 Best Tiramisu in Houston, TX
5. French Riviera Bakery Cafe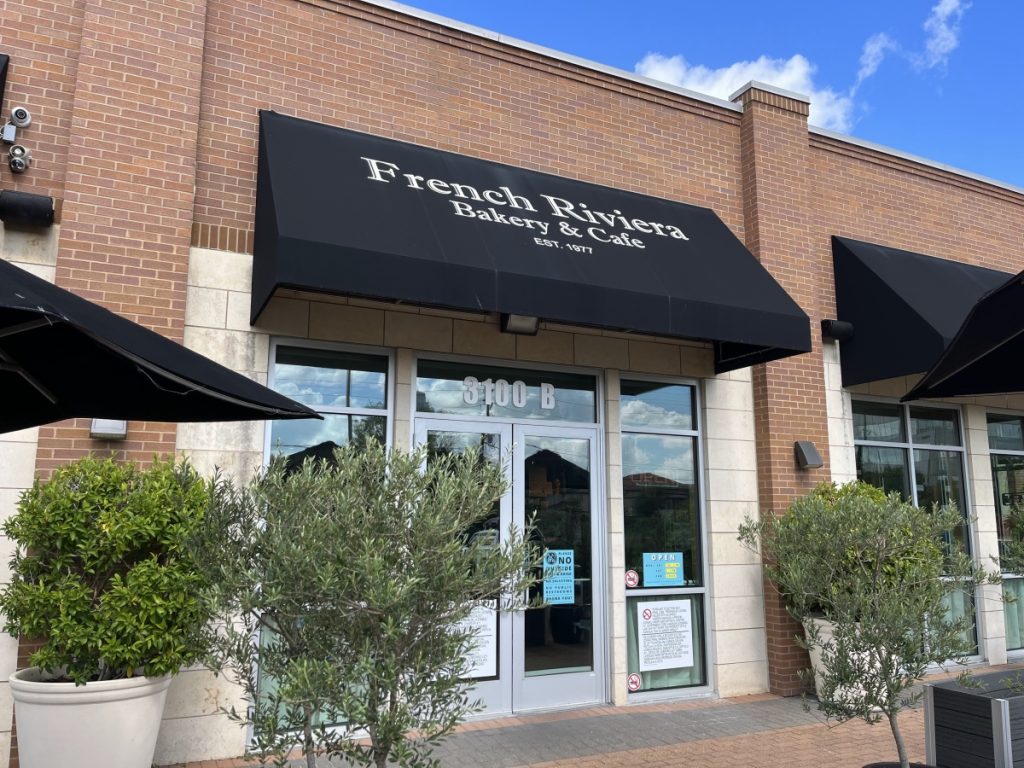 Address: 3100 Chimney Rock Rd Ste B, Houston, TX 77056
Website: https://www.frenchrivierabakerycafe.com
Opening Times: Monday – Friday 7.30 am – 2 pm, Saturday 8 am – 3 pm, Sunday closed
Price: Example Butter croissant $3.25, latte $5.00 (I recommend the lavender latte for $5.25)

French Riviera Bakery Cafe: A Cozy Spot for Treats
If you're searching for a comfy place to sit and enjoy some baked goodies, the French Riviera Bakery Cafe is a great choice. Their dining area is bright, spacious, and modern, with a touch of art that gives it a Parisian feel.
Deliciously Traditional
This modern bistro offers a menu filled with classic French dishes, and they use ingredients straight from France and Europe, which their team prepares and bakes right here. They like to add a few Italian-inspired specials now and then to keep things interesting for their regular customers.
Dessert Delights
The real star of the show at the French Riviera Bakery Cafe is their dessert menu. You can order most desserts in either a standard size or a large. It's a good idea to check the prices because sometimes ordering two standard plates can be more budget-friendly than one large plate. For instance, the chocolate éclair costs $2.25 for a standard size and $5.00 for a large.
Extend Your Visit
If you plan to spend the day in this part of Houston, don't forget to visit Post Oak Ice House, which is just a stone's throw away from the French Riviera. This cool bar serves up fantastic cocktails, craft beers, and has a beautiful outdoor terrace where you can soak up the sun. They also offer live music, retro arcade games, and show live sports – something for everyone to enjoy!
6. Bouchée Pâtisserie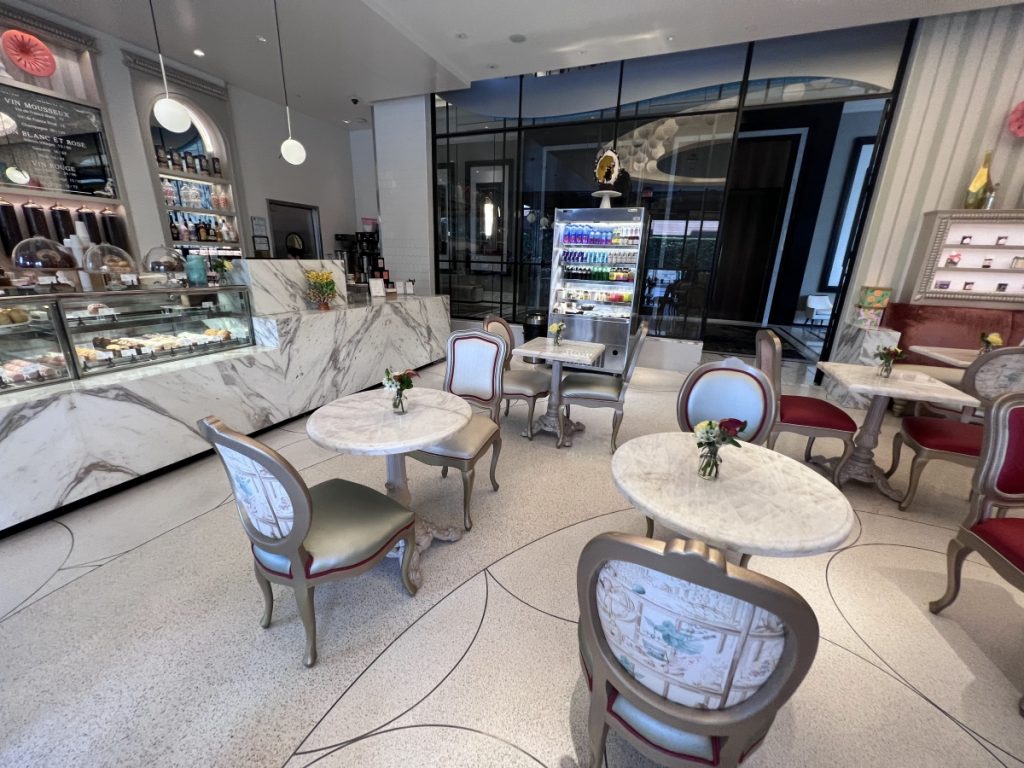 Address: 1600 W Loop S, Houston, TX 77027
Website: https://www.thepostoakhotel.com/restaurants/bouchee-patisserie
Opening Times: Sunday – Thursday 7 am – 8 pm, Friday – Saturday 7 am – 10 pm
Price: Example Butter croissant $5.50, latte $5.50

Bouchée Pâtisserie: A Luxurious French Bakery in the Post Oak Hotel
Located within the prestigious Post Oak Hotel, you'll discover the Bouchée Pâtisserie, a truly indulgent French bakery led by an award-winning chef. Inside this gorgeously opulent dining space, you'll encounter nothing but lavish desserts filled with sugar, rich cream, edible flowers, and even gold leaf.
A Special Treat: Afternoon Tea
I highly recommend a visit here, especially for a special occasion like afternoon tea. It's a fancy experience, so make sure to book your spot ahead of time at this popular place. The afternoon tea costs $60.00 per person, plus tax and gratuity. It's a delightful way to treat yourself or celebrate something special.
Also like this: 4 Best Anime Bars in Houston, TX
7. Croissant-Brioché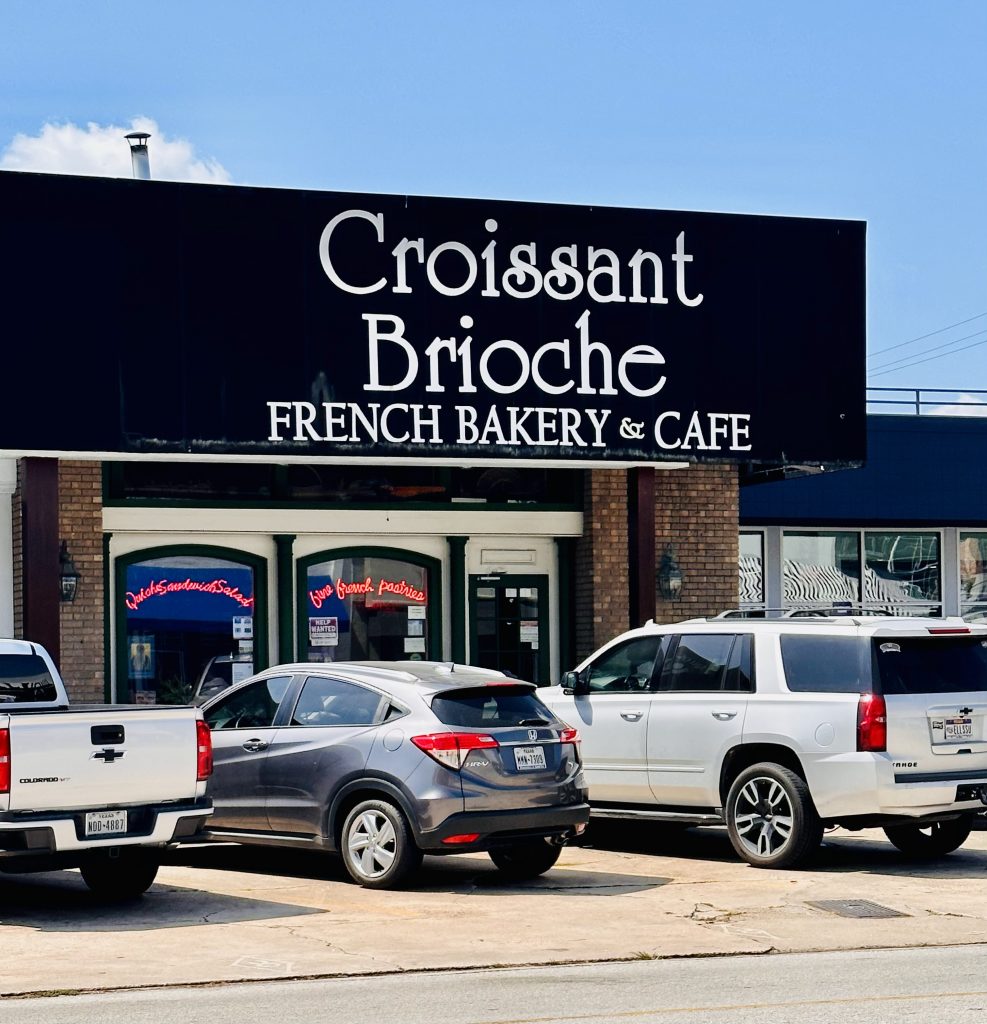 Address: 2435 Rice Boulevard, Houston, TX 77005
Website: N/A
Opening Times: Monday – Saturday 7 am – 7 pm, Sunday 7 am – 5 pm
Price: Example Butter croissant $2.85, espresso $3.33
Croissant-Brioché: A Charming French Bakery in Rice Village
In the heart of Rice Village, you'll discover Croissant-Brioché, a small but wonderful traditional French bakery. It's a perfect spot if you're looking for a tasty and budget-friendly snack or a sweet treat while you're in the area. They even have a few tables outside where you can sit and enjoy your goodies.
Delicious Croissants
Their croissants are the star of the show here—flaky, buttery, and generously sized. You can fill them up with your choice of meats, salads, or sweet fillings. Plus, they offer free refills on regular coffee, which is a nice bonus.
Parking Tips
Keep in mind that parking in this area can be a bit limited, especially during busy times. There aren't many outdoor spots nearby to have a picnic with your Croissant-Brioché. However, you'll find some fantastic shops nearby, making it a great place to take a break during a shopping spree.
8. Mademoiselle Louise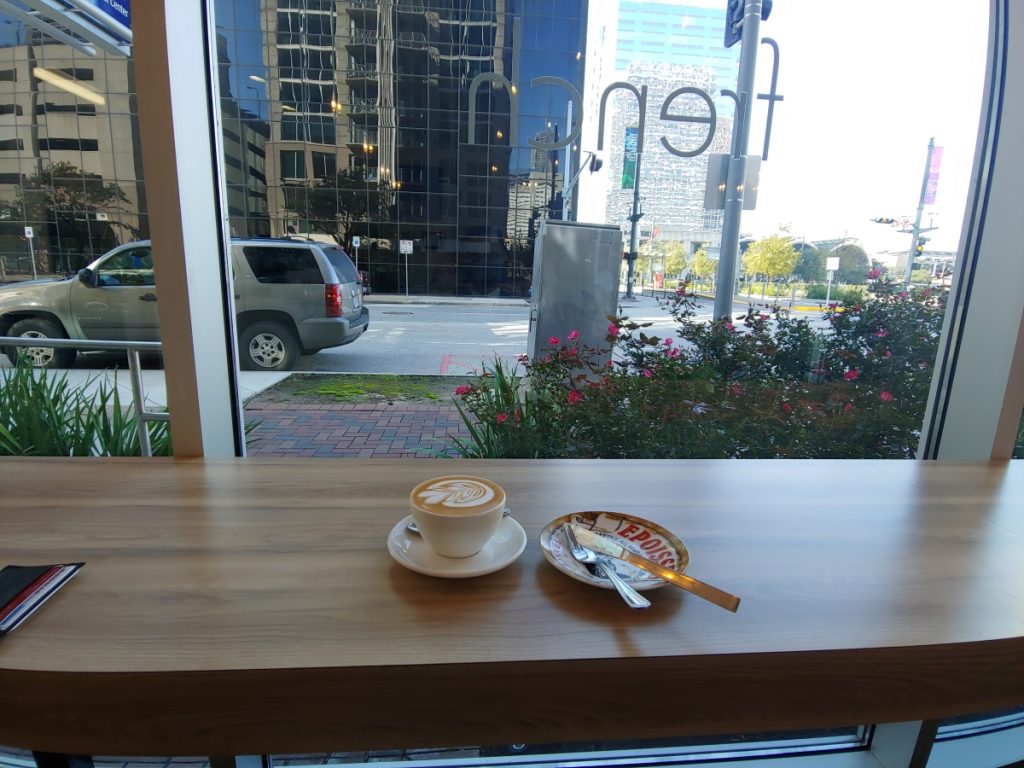 Address: 1725 Main St #1, Houston, TX 77002
Website: http://www.mademoisellelouise.com
Opening Times: Monday – Tuesday closed, Wednesday – Saturday 8 am – 4 pm, Sunday 9 am – 3 pm
Mademoiselle Louise: A Charming French Bakery in Houston
I've got a soft spot for all the bakeries in this guide, but I think Mademoiselle Louise might just be the best of the bunch! It's one of the most authentic and delightful French bakeries you can find in Houston.
A Cozy Atmosphere
When you step inside, you'll be greeted by comfy seating, stylish hanging lights, and a mouthwatering display of colorful pastries on the counter. The whole place has a European holiday vibe that makes you feel like you've been transported to the vibrant Aix-Marseille-Provence.
From Normandy to Houston
Mademoiselle Louise's story begins when its owner and head chef, Frederik Fortin, left his home in Normandy to explore the world. After his adventures, he came back to France with a mission – to share the joy of macarons, pastries, and other French treats with everyone. So, he trained as a pastry chef in Yssingeaux and Paris. With family and friends in Houston, it felt like the perfect place to call home.
Mademoiselle Louise is a special bakery that brings a taste of France to Houston, and it's definitely worth a visit.
Also like this: 7 Best Hibachi Restaurants in Houston, TX
Summary:
Explore the diverse world of French bakeries in Houston, where you can indulge in delectable pastries and baked goods. From the oldest bakery, Moeller's, to the luxurious Bouchée Pâtisserie in the Post Oak Hotel, each bakery offers a unique experience. Enjoy the cozy atmosphere of French Riviera Bakery Cafe and the vibrant ambiance of Le Macaron French Pastries at Vintage Park. French Gourmet Bakery combines French and American styles, while Magnol French Baking focuses on organic, artisanal delights. Croissant-Brioché in Rice Village offers delicious croissants, and Mademoiselle Louise brings an authentic touch to Houston. Whether you're looking for a quick snack or a special treat, these French bakeries have something for everyone.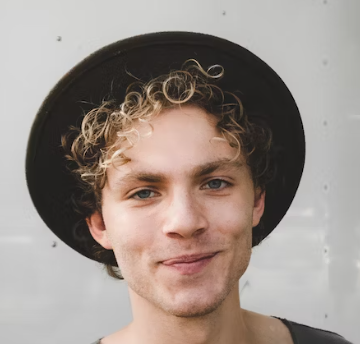 Meet Jake Thomas, an enthusiastic explorer and dedicated writer who loves sharing stories about the wonderful places in Houston. Jake's curiosity knows no bounds, and he enjoys discovering the special things that make Houston unique and exciting.